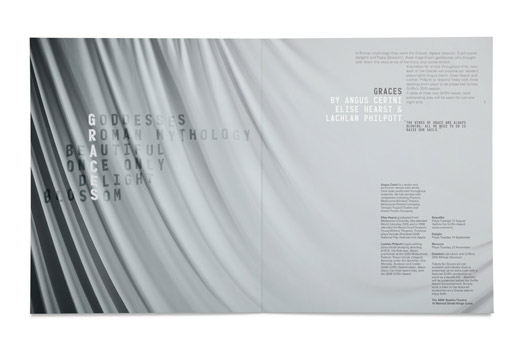 Griffin Theatre Company
Brand Identity
Sydney holds a special place in its heart for Griffin Theatre Company. For thirty years it has been home to some of Australia's most thrilling theatre, launching the careers of many writers, directors and performers including movie star, Cate Blanchett. It's focus on purely Australian writing, acting and directing has made it an essential piece of theatre history in Australia.
We wanted to give this theatre, with writing at its heart, an identity that allowed it to express its own creativity and personality with words. The mood of any poster or spread can change to something completely different by using different words, colour and imagery, whilst still being unmistakably Griffin. The identity places a large emphasis on typography and wordplay; often relying solely upon typography for page layout.
Awards
Distinction AGDA 2010 Identity
Distinction AGDA 2010 Art Direction
Distinction AGDA 2010 Typography
Distinction AGDA 2010 Editorial
Red Dot Communications Award 2011
Distinction AGDA 2012 Art Direction
Merit REBRAND Awards 2013